Jun 03, 2016
"Interview: Аlexander Grabchilev"
- Sergey Poplevin , Interview

The Milles team had the opportunity to interview one of the most interesting contributors of Stocksy United!
Alexander Grabchilev is a Russian travel photographer from Sochi, currently living and photographing in Bali.
Hello, Alexander! We are glad to meet one of the most interesting authors of Stocksy United! Tell us about yourself, we are keen on finding out how and why you decided to go into photography.
I was born and grew up in the warm city of Sochi. Started dealing with photography back when I was a child, when my dad and I were learning to use Photoshop. At first, we were just having fun and changing our relatives' faces. When I finished school my parents bought me a digital camera, which I was using to photograph crazy amounts of things, I always carried an album with photos which I printed myself. One day my neighbour saw this album and talked about me to a photostudio director, whom he knew, and without asking me appointed my meeting with him. I was in my first year of university at that time, well, we met up with the director and he offered me to work in his photostudio. The work was of different kinds. I started off with ordinary ID photos, then did retouching, then went to on-location shootings, conferences, weddings, etc. In a short time I bought good equipment, my parents saw that I was making good money, so I told them that I didn't want to study in a construction university and after that, in fact, I quit university and went to Saint Petersburg to bring my creative ambitions to life.
In St.Petersburg I had no friends or relatives. When I arrived there, I started taking pictures, I was using film back then and I printed medium format images myself, worked in various photographic studios. After some time I met my future wife and it could be said that we found each other. We dreamt of traveling together. It all started when we moved to the Crimea, and even set up a hippy commune there, I would not go into details, but an absolutely creative atmosphere prevailed in that place, we took pictures, played music and what not. But this was not enough for us and we wanted to see the world beyond. We sold everything we had, I even sold my old photo equipment, I remember I had a Nikon D80 back then. First we went to India, where I did not shoot anything at all, because I was getting my mind and perception rearranged, I walked around with surprised eyes, could not get enough of what I was seeing because when you take photos, you sacrifice the magic of the moment, and I wanted to absorb all this beauty and observe everything with my own eyes. We were in India for about six months, then went to Nepal, and there I began shooting again.
I had a Nikon D300s then and one 35mm lens. When we went into the mountains, where the scale was gigantic, and I had no lenses for shooting panoramas on me, I decided to take a chance and shoot single frames, and then made panoramas out of them, some consisted of three to six rows. Moreover, I was shooting without a tripod, and sometimes even used my sunglasses as a filter. The shots turned out very cool! After Nepal, my wife went to Russia for some time and I stayed in Kuala Lumpur, where I was offered a job as a photographer. For seven months I was still shooting, but I did not get any good shots, and at the end of this time period I meet a girl from Serbia. She tells me about Stocksy United and about her company called Lumina. After leaving she introduced me in absentia to the director Goldmund Lukic, and he wrote to me. I received an offer for the purchase of pictures, I offered about 300-400 photos for a total amount of about $5000, when he saw that amount he refused to buy them due to lack of such a budget. Some time passed and I decided to seize the opportunity and wrote to him offering cooperation. I suggested to travel and take pictures, and he would take whatever he liked after. At this point, my wife arrived and we went on a journey to Sumatra, India and other places, and then earned good money from the sales of our photos. After a long period of work we bought a lot of different equipment, formed a separate portfolio, and since then I, along with my wife, put our backs into development of our portfolio at Stocksy United.
Tell us which topics you find the most interesting?
I like to shoot in such a style, let's call it portrait-landscape - this is when it seems to be a landscape, but there is a central object that carries the main semantic load. In general, I love doing the so-called "wide" and "spacious" pictures.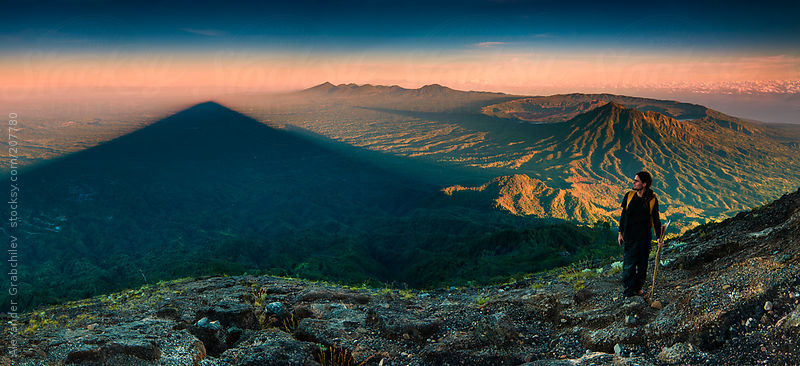 Tell us what kind of difficulties you encounter during your adventures? 
Everything is always completely different and always unpredictable. Not so long ago I went for a shooting on the Ijen volcano, which is a volcano with sulphur lakes, and that day there were a lot of fumes, sulphur dioxide was coming out from everywhere, and this is the gas they use for gas cartridges, by the way. Being there was extremely difficult, considering that you have a very heavy backpack, and you're wearing a breathing mask. When I got up there, I didn't want to leave without at least some shots. I decided to go on and climbed into the crater, and this was even more difficult. We were climbing there at night. Fumes were everywhere, you couldn't see anything, blue flames coming from all sides — it was a living hell. I brought a couple of shots from there, they are in my portfolio, and I will definitely go back there again, as this trip was supposed to be much longer, with tents, with several shootings, but this time, alas, it did not work out.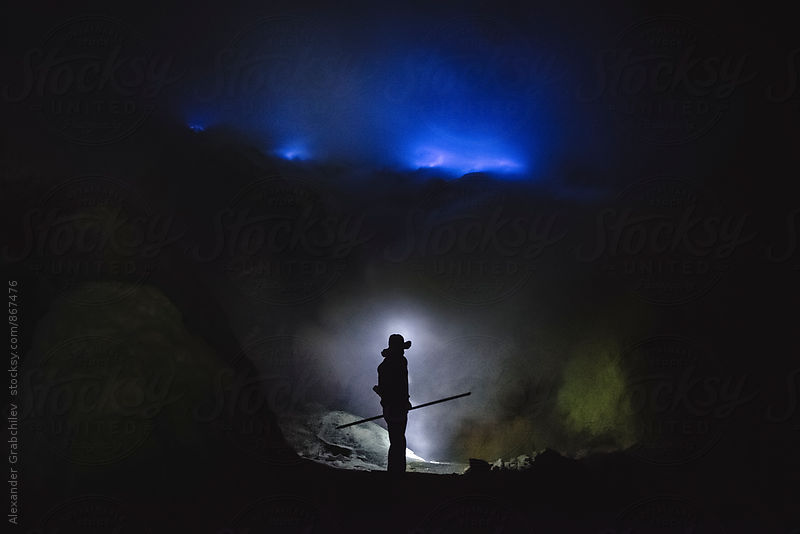 When we went to shoot various ethnic groups on the border of India and Pakistan, a huge number of different subjects for shootings was invented. When visiting the very isolated villages where people had never seen tourists, we encountered difficulties. For example, we come up to them, and because they are all Muslims, the women scatter and there are only men who say "nope" to each proposal. We drove over 1500 km on a motorbike and had about a week and a half to shoot the required material. We passed some villages where we were also not quite welcome, there were even some kids throwing rocks at us, protecting their place and their parents. For them I was an outsider and that was enough. And at the very end of the trip we met a local resident who offered to help us to get to places where we can get "the" shots. We came to a village, where everyone, surprisingly, was excited to meet us and we had all the shots we needed in almost one day. 
Tell us, how are things with paperwork, how do you explain to people, whom you shoot, what the release is, and do you sign it before or after a shooting?
I have actually studied this topical question for a long time, how others do it and everything that is connected with it. When I'm in a place where there is no civilization, I try to give people information that these photos will be public, that I'm from a magazine, and that I'm doing a report about their culture. If I succeed in my explanations, then I just ask them their name because it's really hard to get their signature, many don't even have one and they do not know what it's for.
Where do you get inspiration for your stock shootings? Films, literature, music? 
There are moments when I shoot specifically for stock sites, and in most cases the process is managed by my wife, she looks for relevant topics, trends and so on. And I personally do not just shoot for stock sites, I understand that these photographs are going to be bought anyway, so I just enjoy what I see, and probably get inspired by travel and beautiful places.
Photos for stock sites undergo a very demanding selection. Tell me how much time you spend on processing photos?
I have a long-standing dispute on this subject with Stocksy. They do not like the way I process photos, and my wife critisizes me all the time: it's too bright here, too much contrast, etc. Maybe it's because we have different computers (she has a Mac and I have ASUS). Sometimes, Stocksy write to me: "Make your pictures softer". Generally it depends on the photographer and on how he is used to taking pictures. I spend a lot of time on processing photos and work a lot on details and little things. First, there is the  color correction, then dodge&burn, then high&low, etc. 
Tell us how cool it is to live in another country? 
It's great here! Warm all year-round , 17000 islands, different cultures at the foot of each volcano and it's very interesting.  My wife and I just loved this place, everything's really easy here, people are simple and open, and most importantly — happy. We accepted their culture and have been living here for over two years. 
What are your plans for the future? 
Zhenya and I want to go to Morocco, to shoot various subjects in the deserts, I hope things work out.
Finally, a small message for our readers.
Keep an open heart and do not be afraid of anything. Many people are afraid to leave their homes because the world is unknown and fraught with danger. It is actually very simple, everyone will be kind to you when you are open to the world. The important thing is to take the first step and not to leave the path to your goal.
Photo: Alexander Grabchilev 
Equipment
Interview
Person
Stock
Story
Travel
THANK YOU FOR SUPPORT!
Please, Check your mailbox and confirm your subscription within 24 hours via attached link.